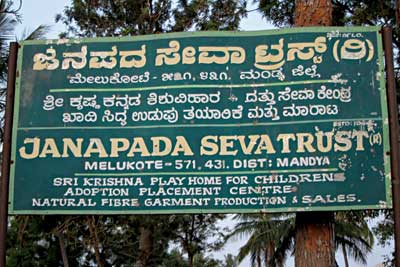 Janapada Seva Trust is a voluntary organisation functioning in and around Melkote a mofussil town in Mandya District of Karnataka, India since 1960. Inspired by the ideals of Mahatma Gandhi and Sarvodaya philosophy the Trust has been striving to create a non-violent, egalitarian order of society. Its core area of work is welfare, education, rural industry, environment and agriculture.
Over the years the Trust has built a fine infrastructure for its activities. The accent of the Trust is on self-help and people's involvement, the Trust seeks support not so much from the State as from people who care.
Vibhushita is proud to announce that we have begun collecting clothes for the Janapada Seva Trust. Please consider donating gently used ethnic clothing and accessories. Dressing up makes us feel good because we feel we can conquer anything. We are all abundantly blessed and giving generously will make this dream come true for someone.